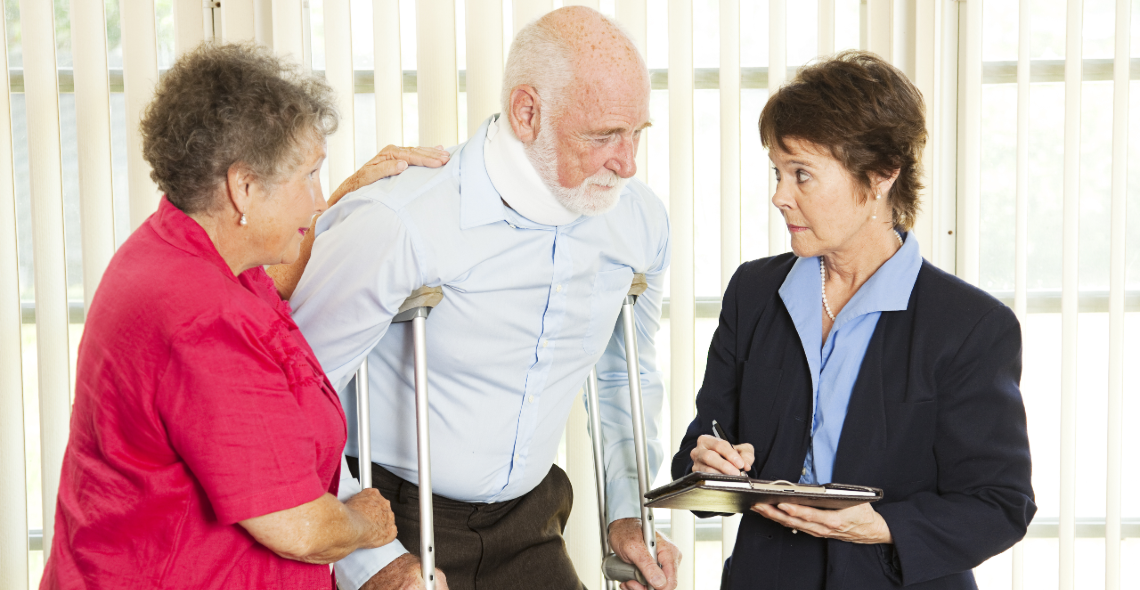 HOW DO YOU KNOW WHEN TO HIRE
A PERSONAL INJURY ATTORNEY?
---
In a 2016 survey, one-third of respondents (33%) stated that they talked to a personal injury attorney following a motor vehicle accident because someone else suggested they do so.
Personal injury claims are, indeed, highly "personal." Injured individuals suffer physically, emotionally, and financially and usually, no amount of compensation is enough for what they have lost. How do you know if hiring a personal injury attorney is a wise decision? It depends on several factors but most of the time, talking to one shortly after you are injured costs you nothing but time. That attorney might give you the information you need to decide for yourself.
At Shep Law Group, we help clients in Boise, Meridian, Ada County, Canyon County, and throughout Idaho obtain compensation for damages they have suffered as the result of personal injuries caused by a variety of incidents. Consultations are free, so you have nothing to lose.
Common Personal Injuries
Broadly, personal injury claims arise when a party's injuries are caused as the result of another party's negligence. Some of the most common personal injury claims can arise from:
Motor vehicle or truck accidents

Motorcycle, bicycle, and pedestrian accidents

Assault and battery

Wrongful death

Slip and fall and trip and fall cases

Dog bites
Knowing When to Contact a Personal Injury Law Firm
It is never a bad idea to consult with a personal injury attorney under any circumstance. Most do not charge for a consultation, and they can provide guidance about the need to hire one.
There are five key areas you should consider in making your decision to hire an attorney or go it alone.
1. Whether the state in which your injury occurred is a fault or no-fault insurance state
In no-fault states, the injured party's insurance typically pays medical bills regardless of who was at fault for the injuries, so you may be able to settle a claim with your insurer on your own. Idaho is a fault state which means the negligent party's insurance company is liable for the injured party's damages. Hiring an attorney to pursue a claim against the other party's insurer is a wise decision.
2. The severity of your injuries
The more serious your injuries are, the greater the need to have an attorney representing you because your damages — including medical expenses, pain and suffering, lost wages, and more — will be greater. You will usually benefit from having an attorney who knows how to value your damages and can negotiate on your behalf.
3. Uncertainty about your options
What damages can you pursue? What insurance can you make a claim against? Do you just pursue a claim, or do you file a lawsuit? If you do not know how to answer these questions with confidence, an attorney can help you explore your options. An experienced personal injury attorney leaves no stone unturned when seeking compensation for your injuries.
4. Confidence in dealing with insurers
Whether you are dealing with your insurer or the negligent party's insurer, remember that both are motivated by paying you as little as they can to settle your claim. Insurers have attorneys who negotiate from a position of strength and experience. You want the same on your side.
5. Proving negligence is difficult
In some cases, it's easy to prove who was responsible and therefore liable for your injuries. In others, negligence is difficult to prove. An experienced personal injury attorney knows how to investigate incidents, document evidence, and prove negligence.
Questions to Ask a Personal Injury Attorney
There are several questions you should ask an attorney before hiring them to represent you:
1. How much experience do you have with my type of case?
You would not choose a dermatologist to perform your cardiac bypass. Choose an attorney who has represented clients successfully in cases similar to yours.
2. What is the value of my claim?
An attorney cannot tell you how much you will settle your case for; however, they can provide an idea of the value of your case based on items such as medical expenses and lost wages.
3. What can I expect in attorney fees?
Personal injury attorneys typically work on a contingency basis, meaning they don't get paid unless you settle your claim. They usually pay all case expenses upfront, so you pay nothing until you settle your claim. Then, you will pay the attorney the percentage of the settlement you agreed to in the beginning and reimburse the attorney for all case expenses advanced during negotiations and trial.
4. Who will be working on my case?
Many law firms have paralegals, case managers, and other staff who will be working on your case. Make sure the attorney will be heavily involved as well. That means being easily accessible to you when you have questions about your claim.
5. How much courtroom experience do you have if my case goes to trial?
Although lawsuits are filed frequently, most cases never actually go to trial as parties agree to a settlement before the trial begins. Nonetheless, you want an attorney who has a solid track record with jury trials and is fully prepared to go to trial if necessary.
How Shep Law Group Can Help
At Shep Law Group, we have represented hundreds of clients from Boise, Meridian, Ada County, Canyon County, and across Idaho in personal injury claims of all types and sizes.
You can trust that an insurance company will have attorneys, investigators, and doctors working to keep the value of your claim as low as possible. An experienced personal injury attorney will bring their own investigators and doctors to bear, leveling the field for your claim.
Consultation with Shep Law Group is free, so don't wait. Call our office today.