TEXTING WHILE DRIVING ATTORNEYS SERVING BOISE & MERIDIAN, IDAHO
Idaho Law
Idaho has a law against manually texting and driving, with a penalty of $85.00 if you are cited. Voice-operated devices are legal to operate while driving but can also result in distracted driving and increase your likelihood of being involved in an accident. Texting while driving is just as dangerous as drinking and driving according to the National Highway Transportation Safety Administration. On average, 1 in 4 automobile accidents are a result of texting while driving.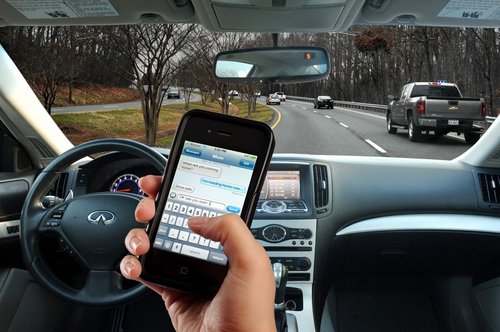 If you have been cited for texting and driving under Idaho Code §49-1401A, which prohibits the practice of texting while driving, Shep Law Group in Meridian, Idaho can assist you with your legal questions as well as advise you on whether or not you should hire an attorney to represent you.
In Idaho this citation falls under what is known as Distracted Driver Laws.
Distracted driving laws have become quite strict in the last couple of years, with several states banning both handheld cell phone use and texting, which are the most common driving distractions. However, Idaho is not one of those states that have a ban on use of handheld phones, but it does have a ban on texting while driving. In July, 2012, Idaho became the 37th state to impose a texting while driving ban.
Text Messaging Ban
The state of Idaho has a ban on texting for all drivers. This is a primary law which gives police officers the authorization to pull you over and give you a ticket for violating the law, even if you are not guilty of any other traffic violation prior to that. However, this offense is not considered to be a moving violation, which means that no points are added to your license.
Novice Drivers Ban
Novice drivers in Idaho are prohibited from using both handheld and hands-free cell phones. This means that they are not allowed to use their cell phones to talk, send or compose text messages while driving, be it on a handheld phone or a hands-free device of some sort.
Why take the risk?
Texting has been shown to increase the risk of an automobile crash by as much as 23 times. Texting requires a great amount of concentration, thus distracting the driver from concentrating on the road. Each day in the United States, approximately 9 people are killed and more than 1,000 injured in crashes that are reported to involve a distracted driver. Distracted driving is driving while doing another activity that takes your attention away from driving. Distracted driving can increase the chance of a motor vehicle crash.
Have you suffered a personal injury from a distracted driver?
If you suffered a personal injury by a driver who was texting and driving, talking on a cellphone, eating and driving, or distracted by any means, you may be able to seek compensation for their negligent conduct.
Compensation often includes medical and hospital costs incurred, pain and suffering, lost income, loss of consortium, property damage and potential future medical issues. It is essential that you discuss your potential case with an attorney to preserve your rights to any compensation you are entitled to.
Additionally, personal injury cases must be filed within a statute of limitation. In most situations, this is two years from the date of the injury or date of death. If the statute of limitations passes, you will forfeit the right to proceed. At Shep Law Group in Meridian, Idaho, attorney Ron Shepherd provides compassionate and aggressive legal counsel. The legal team at Shep Law Group will work with you throughout the entirety of your case, diligently keeping you current on the progress of your case. Our law firm specializes in personal injury claims. Attorney Ron Shepherd has over fifteen years of experience in the courtroom. Call Ron Shepherd today at 208-887-3444 to schedule an appointment for your free personal injury consultation.